The East Coast Santa Fe Modelers (ECSFM) is offering a limited number of HO scale

Funaro & Camerlengo

High Walk 8000 gal Tank Car Kits.
The price is $25.00 per kit
The F&C kit number is 818x
F&C offers 2 kits – one lettered Texaco and another Magnolia
Part of one of these Magnolia high walk cars can be seen in a 1940s picture taken on Cajon in John Signor's Los Angeles Division book p 303.
This model car was also an ATSF car prototype. Jack Delano photo below courtesy of Richard Hendrickson.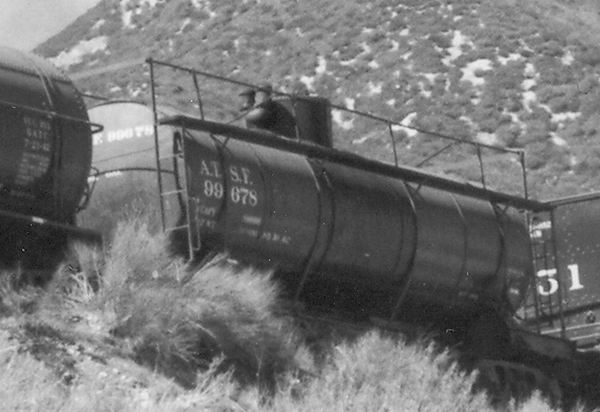 This is a picture of an ex KCM&O Type 7 with ATSF 99678 markings from p 68 of the SFRH&MS Tank Car book. Looking at the Tank Car book p 68 and noting a note from a post Steve Sandifer made on Yahoo groups some time ago, it appears the 8,000 gal high walk tank car that F&C produced (a Type 7) was one of the types of cars ATSF got from KCM&O. This picture of a high walk tank car in the WW II train on Cajon was noted by Steve Sandifer to be a Type 7, not a type 4 as the book caption indicates. ATSF 99678 is also shown on p 68. The KCM&O had a large mix of tank cars that they acquired used from various sources. The tank car book indicates some of these cars were operated through the 1950s, but does not indicate which ones. Santa Fe also got 10,000 gal cars when they acquired the KCM&O
The F&C car needs white ATSF decals. Lettering placement is very similar to that of the Tk-K cars as shown below. (From Society's Tank Car book on page 118; there is no decal set specifically for the high walk ex KCM&O cars)
The few available pictures show few markings on these cars in this era and much weathering. The best available decal set is Microscale Santa Fe Tank Cars (1950s-1980s) Tank Car Stock # 87-128 which has A.T.S.F. and numbers.
http://www.microscale.com/Merchant2/merchant.mvc?Screen=PROD&Store_Code=MD&Product_Code=87-128&Category_Code=ATSF